Jacksonville has a new Hero
We welcomed a new four-legged team member in May 2023 to help support people dealing with trauma.
Hero is a service dog turned therapy dog to help comfort clients and staff.
This friendly face helps people deal better with trauma.
As an additional tool, he works alongside the traditional therapies we practice and he helps to relieve stress and anxiety some survivors may feel when working through what happened to them.
He has a high level of emotional intelligence and can detect when someone is experiencing painful emotions – he then works to stabilize these emotions. 
Along with providing the much needed support to survivors of sexual assault and their families, Hero is proving to be a very useful stress reliever around the office. He has multiple handlers, a full calendar of walkies, and plenty of dog treats at the ready!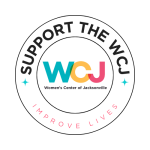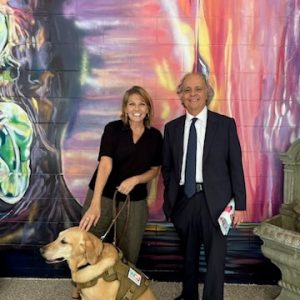 Eddie Farah, Founding Partner, Farah & Farah, taking time out to come to our SAFE Center and meet Teresa MIles, our Executive Director, and Hero!
Hero is a yellow Labrador retriever was donated by K9s For Warriors and is an American Kennel Club recognized therapy dog. As part of the nonprofit's mission to end veteran suicide through the use of service dogs, K9s For Warriors also collaborates with first responder agencies and organizations that work closely to provide certified therapy dogs through its nationwide Station Dog Program.